'Wet but beautiful: Traversing Tasmania's luscious Chasm Falls'
When I arrive at the so-called parking lot, I am surprised to learn that there used to be a bridge over the Mother Cummings Rivulet (nee Smoko Creek) and that you drove over it earlier. There is no bridge now and you have to go down through the scrub and cross the creek before picking up the old road again until you reach an intersection where there used to be a parking lot and here turn left onto the Ironstone Mountain Track off for an alleged hour-long return to Chasm Falls and back. The sign has fallen and is resting on some trees that shine with its coat of Spanish moss and lichen that make it barely legible. Other tempting destinations like Smoko Falls and Bell Tarn are also listed.
You are instantly surrounded by the myrtle, king billy pine and sassafras that dominate this region's temperate rainforest, and when you move into the actual bush and leave behind the forestry practices of the past that have regenerated as scruffy eucalyptus, it's time to meet up with the Tasmania from Gondwana times and stroll among the carpets of sphagnum moss that lie dense between the rocks. Elsewhere, ferns survive where they can, mostly next to the streams where they can catch flickering glimpses of the sun at certain times of the day.
It doesn't seem to take you that long to get to the falls, other than these aren't the falls. In fact, you're not even halfway there; The actual track is just beginning. If you stumble across the slippery rock surfaces, it won't be long before you climb a third grade hike that doesn't have an even stance and after a while you'll be asking, "How much further?"
The pristine water was cold but beautiful. Source: Ian Smith
On the side, at different distances, seduce flowing pieces of water that move your camera fingers so far that you can sometimes no longer resist. It's a photogenic streak of fluid to say the least.
I can hardly find it credible that the route detours, moves away from the river and becomes even steeper. Sure we have to close? No, but we are about 2/3 of the way away and the forest is a feast for the eyes the entire way, complemented by colorful mushrooms that we think are irresistible.
Almost suddenly we are there after concentrating so much on finding a secure footing. Gerry points to something below and I'm gone only to discover that it's a large tree trunk resting over a ravine, sorry abyss, hence the name. If acrophobia is part of your makeup, you won't be walking that span over a dizzying crevice that is constantly being eroded by nature. There is chicken wire attached to a single strand of solid wire on either side of the log.
That's all that separates you from death. It must be said, however, that the surface of the log is quite flat and I found it easy to walk over it, unlike poor acrophobic Gerry who, having made it, would not return but chose the option that Cross creek over the falls. Too bad Gerry, too much water came down forcing him to go back and negotiate the protocol again. That was after we had consumed lunch. My choice was a gourmet bun that I bought earlier in the day and that I boasted over and over while Gerry was stuck with his homemade sandwich.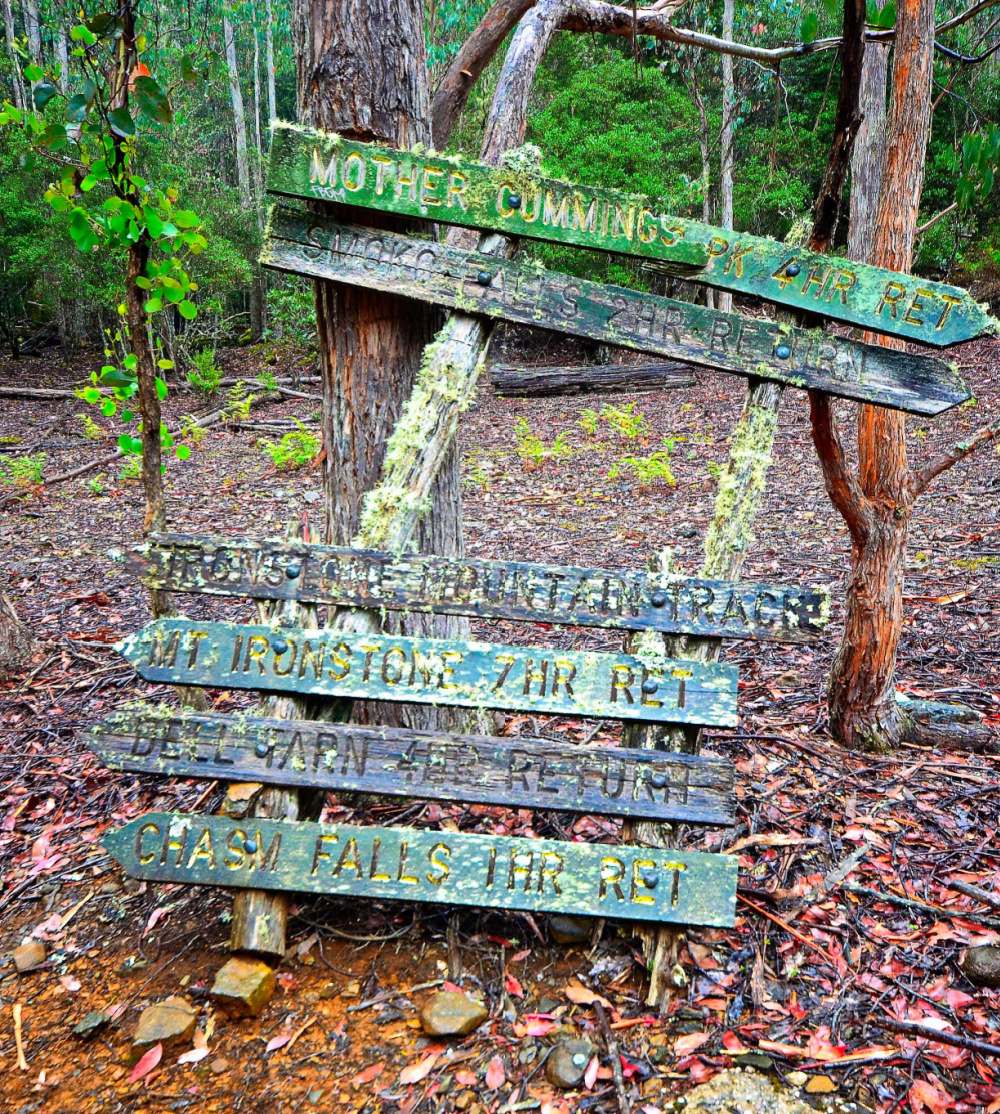 The sign has seen the better days. Source: Ian Smith
It was around this time that it started to rain lightly, just as we finished our lunch and were actually packing. It was not a factor when we turned our way around and went home and stopped twice at the prearranged spots we had marked on the way up. It was about after we shot the second that the rain got a little heavier. Of course we know who this is encouraging, so we started checking our legs, and it wasn't long before the black creatures from insect hell fell on either our person or on our clothes, looking for the warmth or the pulsation of a vein, which would serve as dinner.
It was raining so our camera bags were saturated, our shoes were completely soaked, and our clothes were uncomfortable. Now so much water came from the sky that even the forest offered no protection. Our socks began to squeeze into our hiking boots and misery lifted its ugly head. The suggested return time of one hour is a bit off. Although we took some photos, it's only the real fit and focus that can handle this time. Better to allow an additional half an hour.
Gerry's missing sweater came into view and I pointed it out, instead of picking up the soaked wool dress before we reached the old abandoned parking lot and headed downhill to the intersection, then Rock jumped over to the other side before climbing back to the car. Blessed relief, the chance to sit, maybe dry off a bit, examine ourselves for beasts, and return to civilization.
I had separated from my backpack and camera and was safely trapped in the passenger seat while Gerry was still outside by the trunk when the sky opened. As if it wasn't already wet enough! While I would probably have dipped in the car until it wore off, Gerry challenged and relieved himself of it in true Taswegian style. Finally his saturated clothes and body got into the vehicle and we were on our way, the heater full.
We hadn't gone far when the rain stopped. Even the street showed no sign of damp. We had just been caught where the updraft had formed clouds and threw them at us. Or maybe it was some kind of message from the gods that I had done enough, it was time to leave Tasmania. Surely it is a message that my body was in tune with. We drove to a picnic area by a lake or other that we parked there for irrigation purposes. I vividly remember peeling strip by strip from the paper towel dispenser and wiping my synthetic running shorts. Since they don't hold moisture that easily, much of it peeled off fairly easily. I suppose being half dry is better than being totally soaked, at least it seemed that way back then.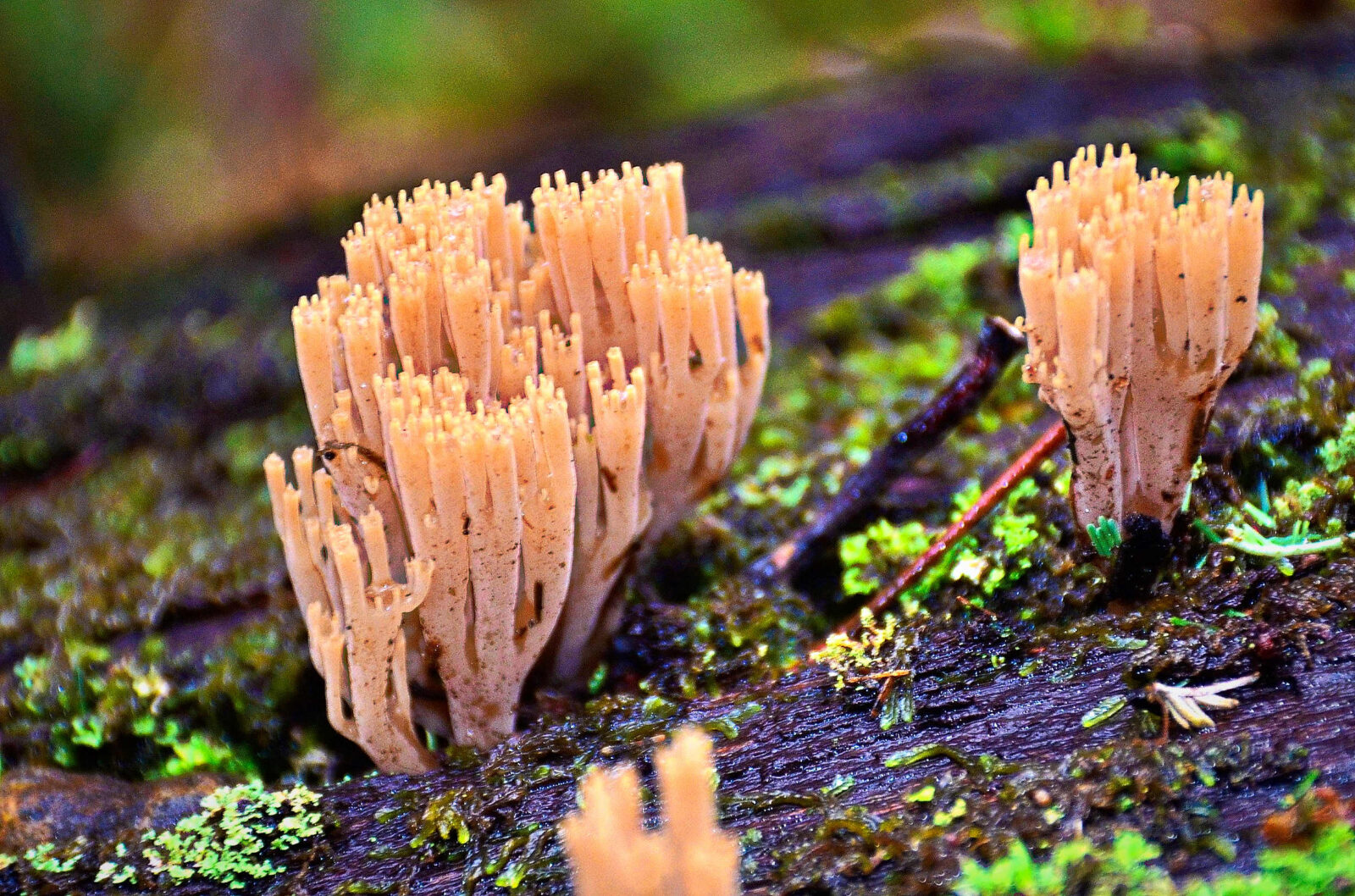 The local mushrooms. Source: Ian Smith
(18) I took the last one from me, I thought as we approached Deloraine. I offered to call Gerry for a cup of coffee when we arrived and he accepted, so we went to the gourmet cafe where I used to buy my fancy bun that Gerry kept twirling about as I walked . I took off my shirt and put on a sweater, my only dry item of clothing and thankful it was me. While I was ordering a large hot chocolate, Gerry surprised me with an ice chocolate that I usually reserve for warmer days.
We remembered the walks we'd taken over the years, just four, and how pleasant it was to run with people who understand that the drive has to stop and take photos and not worry if you do a bit behind or come in front. On top of that, it's an extra set of eyes to see the things you might otherwise miss, and when you remember moments they are so common because you are both on the same page.
We discussed the possibility that at some point in the future Gerry could take a trip north when I could pack the RV and spend a few days in northern New South Wales. Maybe it would happen, maybe not, but it was nice to dream. Then, far too early, it was au revoir, and who knows when we will meet again. At our age one can only hope.