Travel Expert David Hoffmann of "David's Been Here" Wants You to Leave Your Mark on the World
Travel has the ability to arouse curiosity about the world. And what used to be perceived as a luxury has now become a necessity to live life to the fullest.
With the influx of travel bloggers, vloggers, and influencers filling their blogs and social media pages with beautiful images of luxurious travel experiences that only the rich and powerful can achieve, relatively few represent travel as something that can be experienced those who don't have an unlimited bank account in a way that is really genuine and compelling. For Miami-based tour guide David Hoffmann, his passion for travel is only part of his success. His down-to-earth personality and appeal to everyone, combined with his desire to present travel destinations as the locals experience them, make Hoffmann stand out in a crowded field in a way that feels both authentic and refreshing.
"Travel is the only thing we buy that makes us richer," says Hoffmann. "Every time I travel, I learn more about the world, but I also learn more about myself. Every trip changes me to the core and hopefully makes me a better person. "
Hoffmann, a 34-year-old entrepreneur, husband, father and foodie, is the face of David's Been Here, a one-stop travel guide resource that provides travel inspiration and advice. In the past 12 years, he has immersed himself in countless cultures in 77 countries and has traveled to over 1,100 cities. As a tour guide, producer and social media influencer, Hoffmann is heavily influenced by the places he has visited around the world. To date, he has hosted over 2,000 travel episodes on six continents. His ingenuity in providing high quality recordings and video guides has helped both professional and leisure travelers find honest and accurate travel information drawn from first hand experience.
Hoffmann's diverse family culture – he was born to Venezuelan parents of Italian and Hungarian descent – was the trigger for his curiosity about the world. In 2003 he visited his mother's family in Gubbio, Italy for the first time and was unable to speak and communicate with them in the traditional sense. However, he found that he was able to connect with them through two things that were later central to David's Been Here: food and culture.
"This journey started everything for me," says Hoffmann. "I was with my mother's family in Gubbio for a whole week. It was the most incredible cultural experience ever, even though I couldn't understand the language. I fell in love with the food and couldn't get enough of learning as much as possible about Italian culture. This trip made me realize that my life wouldn't be complete if travel wasn't a big part of it. "
Instead of letting the communication barrier hold you back, he sparked a desire to travel more and learn more about the world around him. After traveling 100 days around Europe in the summer of 2007, Hoffmann returned to Miami with renewed hunger to create travel content that showed the world through his eyes. He put together a business plan, raised $ 250,000 from sponsors, and hired a small film crew. The crew, consisting of a videographer, a sound engineer, an editor and an assistant, accompanied Hoffmann on a two-year adventure through Europe after graduating from the University of Miami.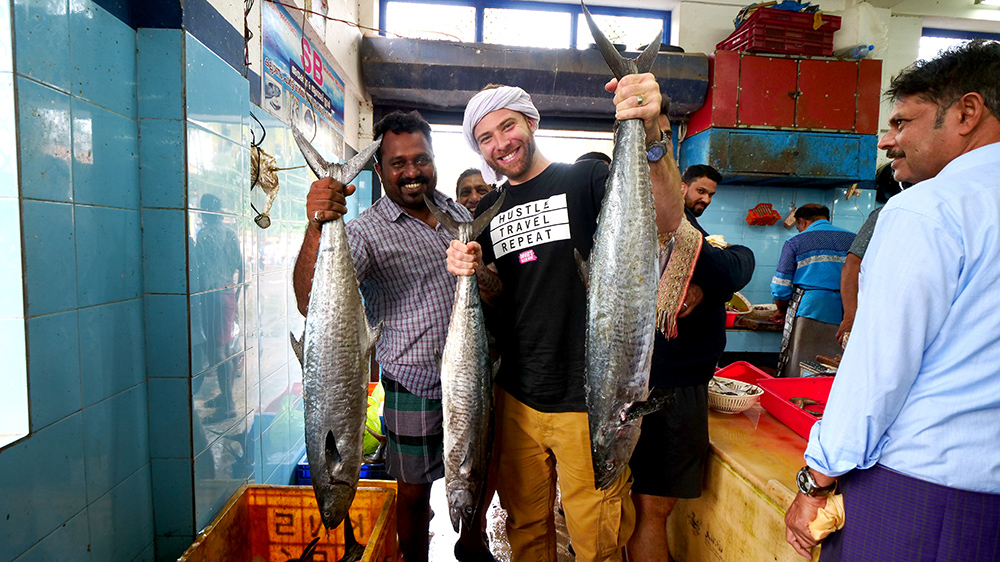 From 2007 to 2009 Hoffmann and his film team shot 500 short films with a focus on cultural and historical sites, gastronomy and nightlife in 22 countries. During the filming, Hoffmann assumed a serious, conventional, host-like personality, far removed from his warm, exuberant, and outgoing personality. But with the advent of more personal travel vlogging in the 2010s, Hoffmann knew he had to shake up his style in order to maintain his success.
"I had to learn not to care what people thought of me," he says. "I was worried about what people would think if I was more of myself and more off the shelf, which is what vlogging is about. My imperfect grammar, my Miami accent, my relaxed style … I had to learn to adopt them. Now I see them as my strengths because they are real. People want to see authenticity more than anything. "
He learned to film and edit his own videos, and studied vlogging superstars like Casey Neistat and Mark Wiens to familiarize himself with the camera. Hoffmann renamed his YouTube channel as a travel vlog channel in summer 2017. He took advantage of the long-form vlog format to show more destinations he'd traveled to than ever before and used his friendly manner to attract audiences and make them feel like they were traveling with him. The move proved a success for Hoffmann, who gained over half a million new supporters and subscribers from around the world over the next three years.
Since launching his channel, Hoffmann has been named one of the Top 10 Travel Videographers by USA Today and one of the Top 10 Travel Video Sites by OOAWorld. He also received the Travel Video Alliance Award for Best Culinary Video / Best Culinary Series in 2020.
Hoffmann prides itself on sharing destinations that people cannot easily find in most travel guides like Suriname, Uzbekistan, Bhutan, Kuwait, and Armenia. He meticulously documents his experiences to create various videos and detailed written guides that share his favorite things to do and experiences in each travel destination, including the best restaurants, dishes, historical sites, cultural experiences and day trip options. He does everything with the help of local guides, which he often finds on YouTube and Instagram.
"I'm not a big fan of large tour groups or large tour operators that are run by foreigners," explains Hoffmann. "The way to a real, authentic experience is to see a destination the way a local would. The locals know all the hidden gems, the best restaurants, the natural wonders that no one has seen before. They can explain their food and culture to you better than any outside tour guide. It's a deeper and more fulfilling way of traveling. "
Hoffmann only suggests what he tried himself. For him, part of his mission is to provide honest advice and answer questions about the places he has been, bringing independent travel to the masses.
"When people text me and email me and say," I'm going to one place or another next month, where should I eat or what should I do? "Does that mean the world to me," he says. "Having people's trust is something I never take for granted. And it makes me so happy to see that something I created inspired her to take travel into their own hands and make it independent. Professionally, it's the greatest gift I can ask for. "
To learn more about David's travel experience, visit David's Been Here and follow him on Instagram. Subscribe to his YouTube channel to follow David's adventures around the world.