Behind-the-scenes: Robots in S'pore's libraries do the manual work so humans don't have to – Mothership.SG
I first saw her on a lazy September afternoon at the Tampines Regional Library.
I don't think she noticed me; She concentrated on browsing the shelves, but something about her calm but focused demeanor caught my attention.
She also had other noticeable features. Her kilometer-long eyelashes curled in the right places, her four hands that –
Wait a minute – FOUR HANDS?
Yes, it is in all its many-sided splendor:
Sorry for my terrible photography skills, but the robot's fourth arm is not in the picture right now.
A shelf reading robot
This, dear reader, is a shelf reading robot that I was able to meet on a September afternoon.
Developed by local company Senserbot, this shelf-reading robot is the result of a collaboration between the National Library Board (NLB) and A * Star to address a frustrating problem: the misplaced book problem and the number of hours worked they were wasted daily on correction.
This used to have to be done manually and, as you can imagine, was extremely labor intensive. However, the robot is able to do this faster and more accurately.
The shelf reading robot can scan the RFID tags in library books on the shelves and make sure they are 1) in the right place and 2) in the right order. And how effective is this robot? Very effective as it appears to be 99 percent accurate.
The Tampines Regional Library uses two shelf reading robots and both can scan most of the library collection in one night (yes, they only work at night).
The next morning, the system will spit out a report showing the misplaced books and their location so that library staff can manually replace the books.
"So it does it every night, so we have very up-to-date records every day," says library director Lee Yee Fuang.
This is very important not only for the library, but also for the users, as it is then very easy to search for the location of a library book in the NLB app – all the way to the shelf where it is: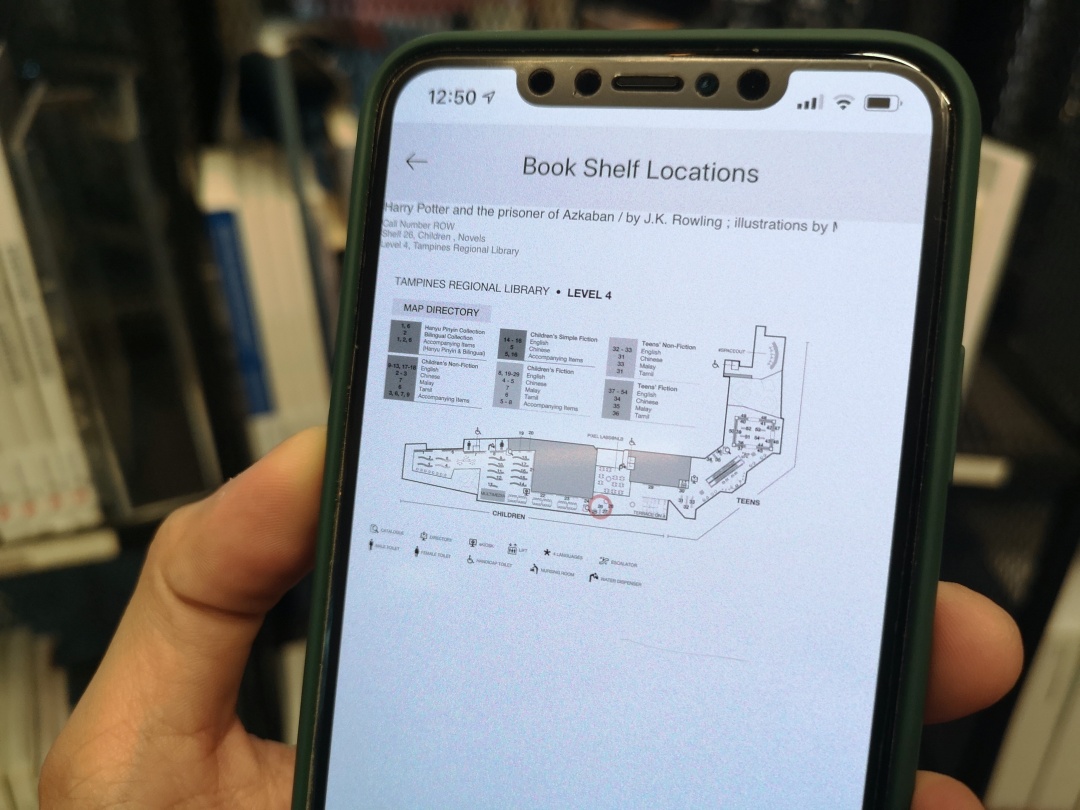 Bet you didn't know you can find books using the NLB app. Image by Joshua Lee.
Mobile bookdrops
The Tampines Regional Library patrons would be familiar with the next robot.
The library, with a total area of ​​10,900 square meters, has two entrances: the main entrance is accessible from 4 Tampines Avenue, while a side entrance is located along 5 Tampines Avenue.
Many customers prefer the secondary entrance as it is closer to shopping at Our Tampines Hub. However, the library's drop of books is at the main entrance – an entire soccer field away.
Did you have to walk the entire length of a soccer field to return a book? Neither do I, but apparently it's a frustrating exercise for many library users (haha).
Unfortunately the National Library Board was unable to build another bookdrop at the secondary entrance due to lack of space.
Enter this wonderful chonk of a robot: The Mobile Bookdrop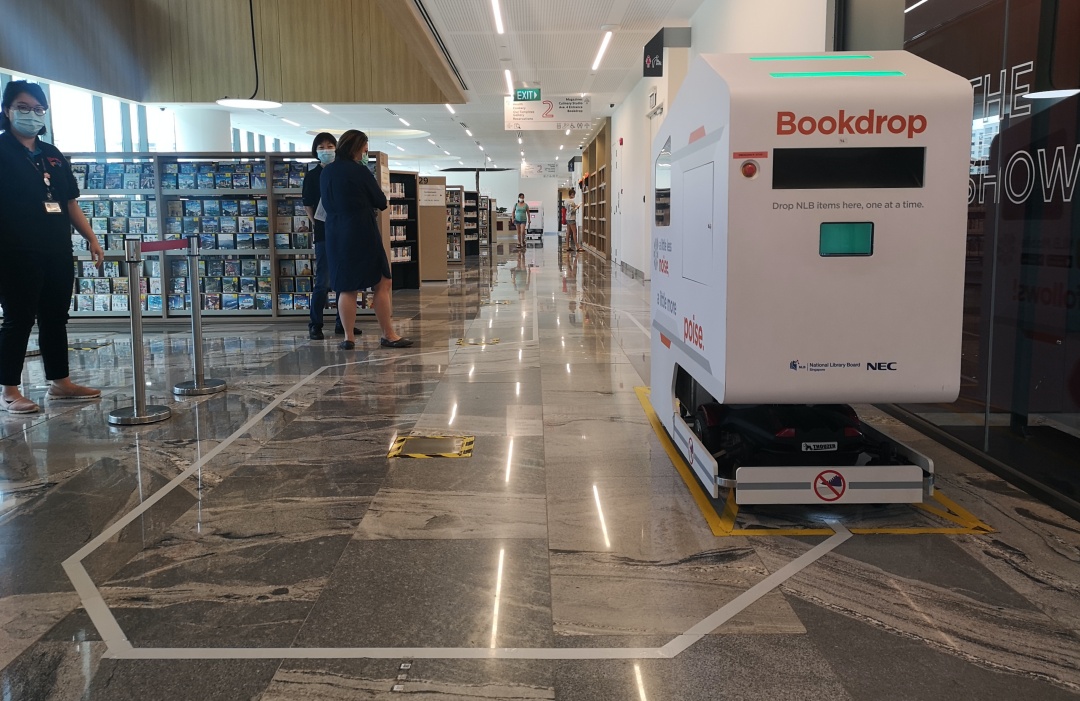 The Mobile Bookdrop was used to offer customers of the Tampines Regional Library more convenience and flexibility when returning books. Image by Joshua Lee.
As the name suggests, it is a drop of books that moves – especially between the more popular entrance of the library and the sorting area – and offers customers more convenience and flexibility when returning their books.
The Tampines Regional Library provided two mobile bookdrops in 2017 and is the only branch using this technology.
In contrast to a conventional bookdrop, the mobile can only hold up to 150 books.
Once filled, it displays a NOT RETURNING message and begins its journey to the sorting area, where it sends a warning to employees to replace the container inside with an empty one.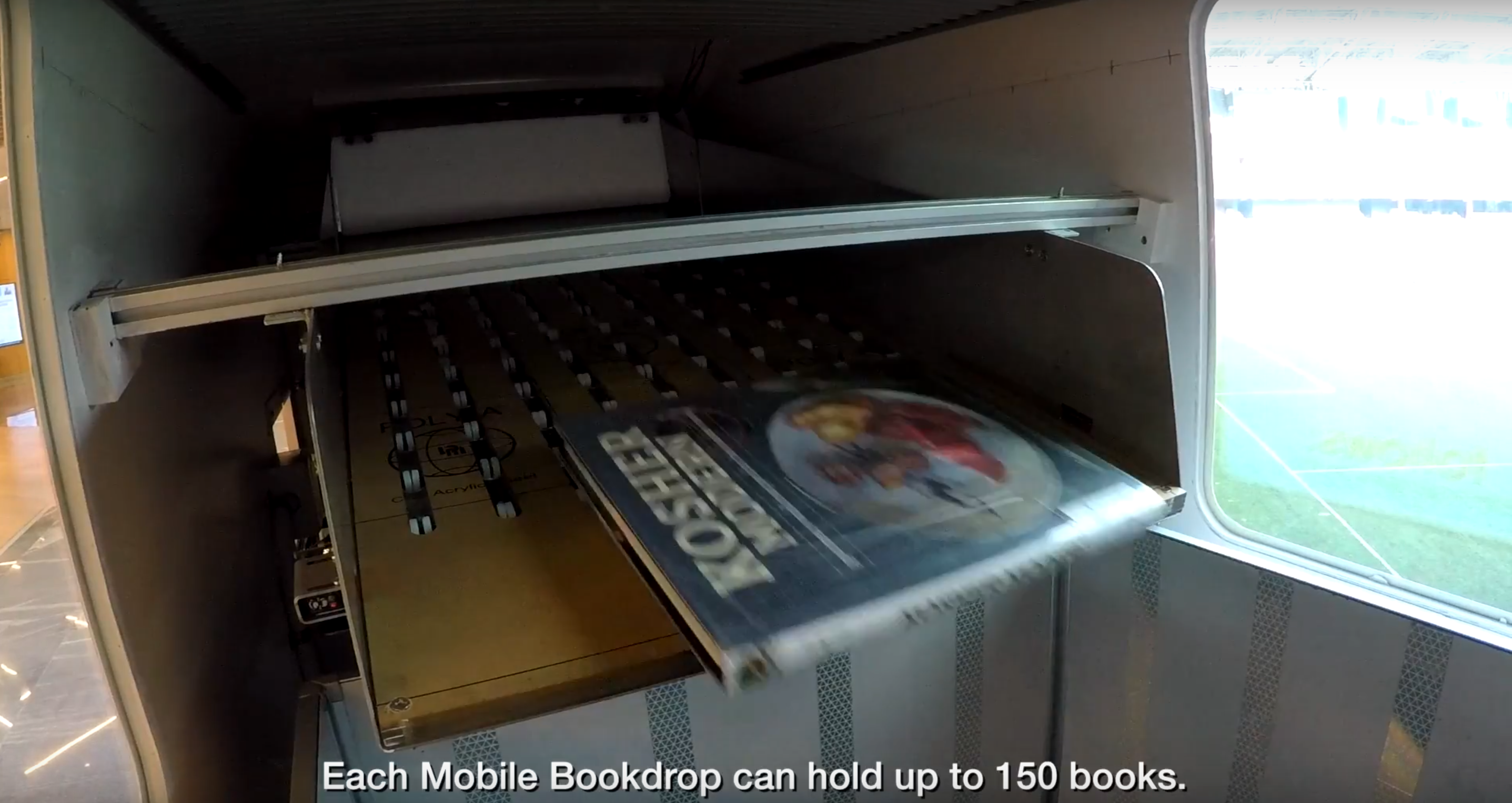 Screenshot via NLB YouTube video.
There is no little man who maneuvers the machine from the inside, so the entire apparatus, which only moves in one direction, is guided by a magnetic circuit on the ground.
If you look closely, you will see that the route the Mobile Bookdrop is traveling on is interrupted by tiny, inconspicuous QR codes. You can try scanning them, although they are unlikely to go anywhere.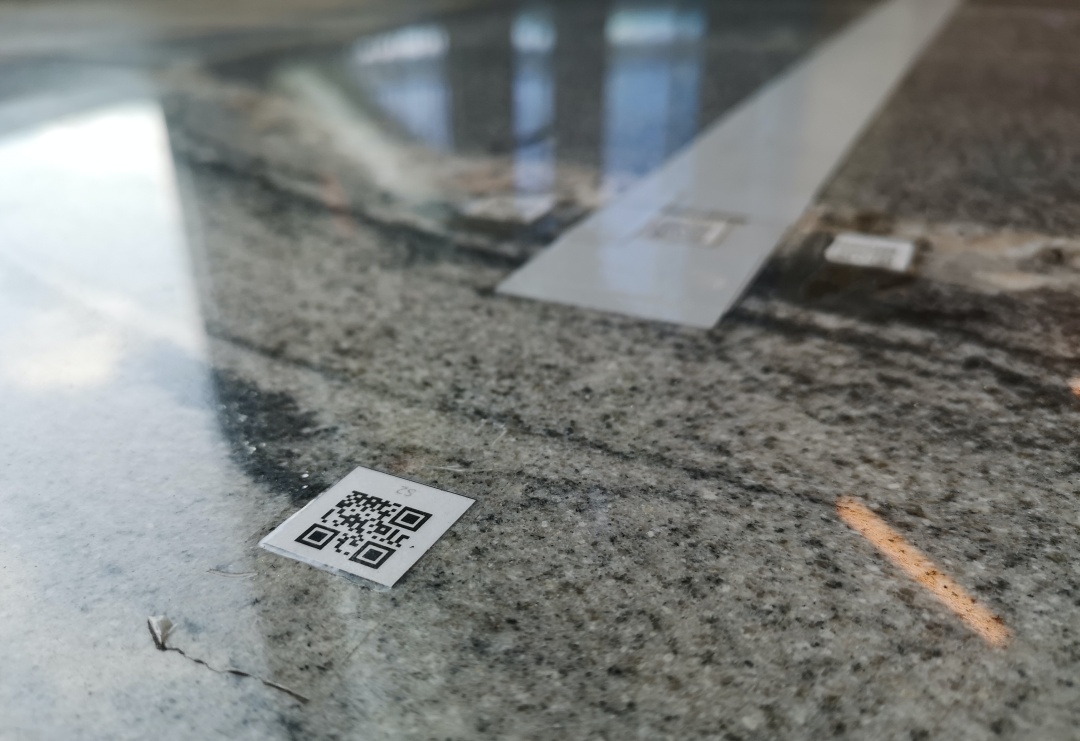 Tiny QR codes enable the mobile bookdrops to "communicate" with the system. Image by Joshua Lee.
These QR codes track the robots' positions when they are on the move and allow the system to instruct a robot to stay in position whenever its counterpart moves. In this way, only one mobile bookdrop moves at a time.
The Mobile Bookdrops at the Tampines Regional Library have been a huge hit with customers, especially young children, says library manager Lynn Koh.
"Many children like to return the items, even if they come from there [the main entrance]Sometimes the kids go all the way here just to use this robot. "
The Auto-Sorter: A Magical and Hypnotic Piece of Technology
If you ever have a stressful day, can I recommend a trip to a library where you can see an auto sorter in action?
It's strangely therapeutic.
The plonk down the bookdrop chute, the hum along the conveyor belt, this short pause while the auto-sorter system detects the RFID tag in the book before it drops the book into the correct container with a satisfactory plop.
Nice.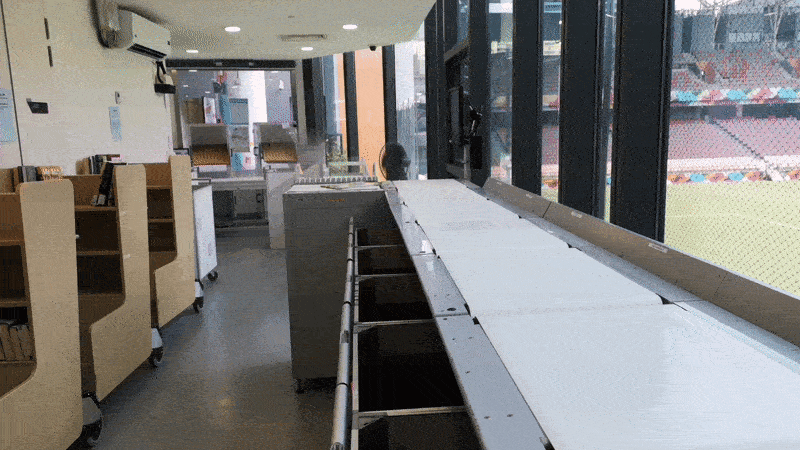 Different categories of books are grouped together to make manual filing easier for librarians. For example, this container has been programmed here to receive books related to computers, business, travel and leisure: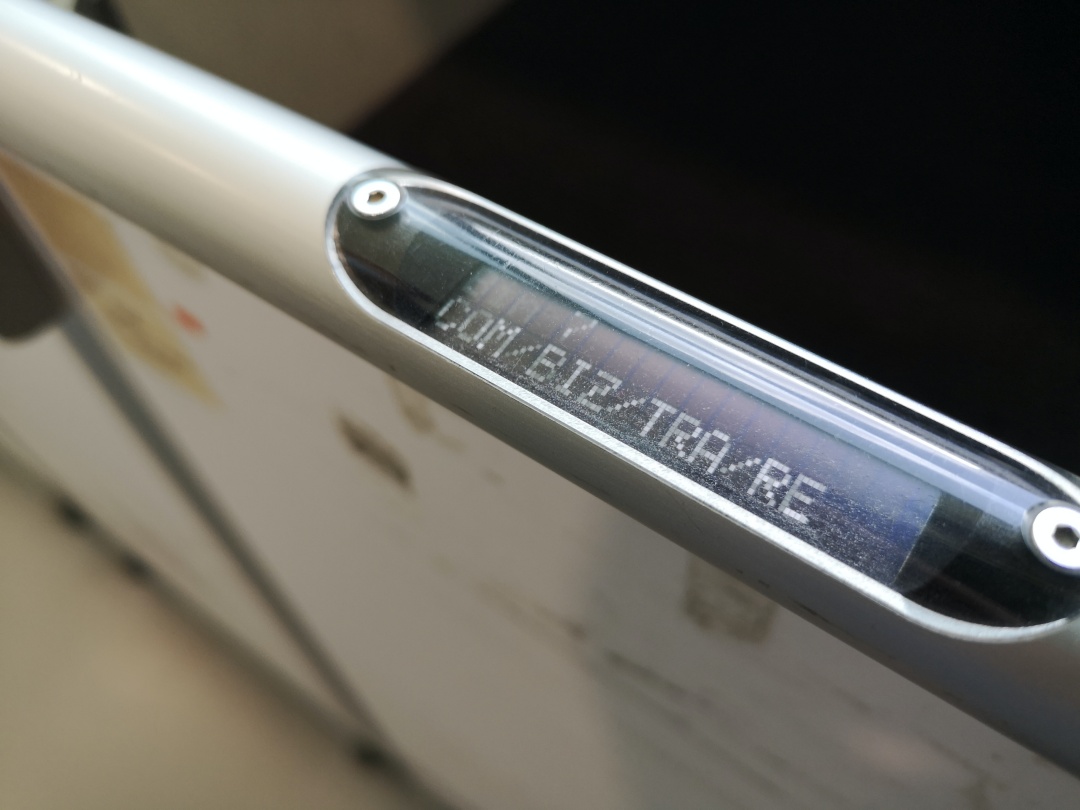 Image by Joshua Lee.
As soon as the bins are filled – the system registers that it has reached a certain weight – the library staff are alerted to transfer the books to these trolleys and then unroll them for storage.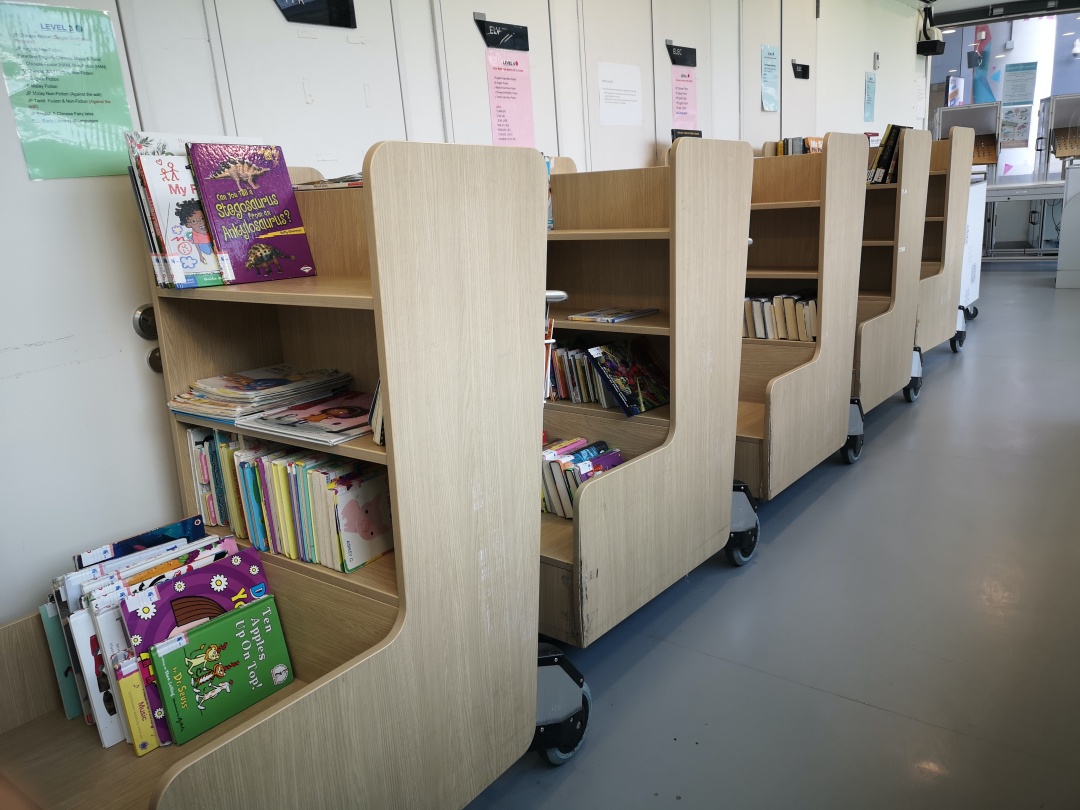 The books are then rolled away for manual filing. Image by Joshua Lee.
"Unfortunately, we haven't gotten to the point where those trash cans can automatically go out to store the books," Lee chuckles.
The auto sorter was first piloted at [email protected] It was then made available in 25 public libraries. Today the auto-sorter is used in all public libraries except [email protected]
In fact, you can see the auto sorter in action at the Bukit Panjang branch, the Bedok branch. [email protected]and Central Lending Library.
Be warned though – – You could actually waste an entire afternoon just staring at this beautiful piece of technology working its magic.
Gives employees more time for other activities
This automated technology is a welcome change, says Lee, adding that NLB is always looking for ways to improve the workflow and user experience of its libraries.
As someone who attended libraries from a young age, I can attest to how our local libraries have changed. They are no longer solid and musty places.
We can now access the entire NLB catalog online, borrow books using our cell phones, and even borrow e-books from the comfort of our homes (you don't even have to visit a library!).
That being said, the physical experience of bringing in a library has improved significantly since the days of book stamping, manual sorting, and queuing to collect reserved books (most public libraries now even have reservation lockers) – thanks to the robots and automated technology that NLB has accepted.
The technology – in the form of the shelf-reading robot – also supports a rapidly aging workforce.
"Some of the feedback [by older library staff] is they can't even see the Dewey decimals on the book … they said they see until they cross their eyes. "
Thanks to this robot, librarians have also received fewer inquiries about where certain books are, simply because the books are in their correct places and users can easily find them, says library director Sharon Heng.
"So on the operational side, satisfied customers, satisfied employees!"
After technology has taken care of the "mundane and labor-intensive" aspects of a librarian's job, it can focus its attention on other tasks, Lee says.
Tasks like preparing the libraries in the morning, keeping books returned the night before, and most importantly, engaging customers by recommending reading or library activities, says Heng.
"We're also a very social place. We do a lot of programs … like author's book talk, storytelling. Robots can't do all of those things."
"Reading is still our core," says Lee. "I hope we can read more and make more recommendations [on what to read]. So if all manual work can be supported by robots, my staff will have more time to read, recommend books and contact customers. "
We deliver more stories to you on LinkedIn

Stories from us is a series about common people in Singapore and the unique way they live their lives. Whether it's about breaking away from convention, pursuing an atypical passion, or facing up to battles, these stories remind us of both our individual uniqueness and our collective humanity.
Top pictures by Joshua Lee.